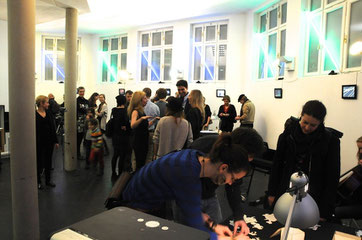 MUWA anmieten

MUWA to rent
Eine Anmietung des Museums der Wahrnehmung MUWA für Veranstaltungen, z. B. Vorträge, Diskussionen, Konzerte, Konferenzen, etc. für ca. 50-70 Personen ist möglich.
You can rent the Museum of Perception for events like lectures, discussions, concerts or conferences for 50-70 people. 
Kosten / Costs (exkl. MwSt / tax not included):
€ 55,- pro Stunde / per hour

€ 50,- Reinigungspauschale fix / fixed sum for cleaning

Sitzmöglichkeiten: 50 Stühle / 50 chairs

Eine Leinwand für Projektionen steht zur Verfügung!
A projection screen is available!
Technisches Equiment muss von dem/der Mieter/-in selbst gebracht werden.
Technical equipment must be brought by you.
Für eine Planung benötigen wir einen groben Zeitplan (vom Eintreffen bis zum Verlassen der Räumlichkeiten). Die Zeit des Auf- und Abbaus wird einberechnet. Die Anmietung muss spätestens um 22 Uhr beendet sein (inklusive Abbau).
To plan the event we need an approximate timetable. The time for setting and clearing is included. You have to leave at least at 10 o'clock p.m.
Catering: Für ein Catering muss der/die Mieter/-in selbst sorgen, dafür stehen im Foyer zwei Theken (groß: 310 x 50 cm, klein: 120 x 50 cm) zur Verfügung.

For the catering which you have to bring with you, you can use two counters in the entrance.
HINWEIS: Im Falle einer öffentlichen Veranstaltung (Lesung, Konzert, Theater, etc.) verpflichtet sich der/die Veranstalter/-in (= Mieter/-in), alle Abgaben, Meldungen und dergleichen selbst zu tätigen und zu finanzieren.
Note: In case of a public event (lecture, concert, theatre, etc.) as presenter you are obliged to make and pay all dues and taxes yourself.
Interessierte sind herzlich eingeladen, sich zu den Öffnungszeiten des Museums - täglich von 13.00 bis 18.00 Uhr, außer Dienstag - die Räumlichkeiten anzusehen!

If you are interested you are welcome to visit and to see the rooms at the opening hours daily from 1.00 - 6.00 o'clock p.m. except Tuesday!
Bei weiteren Fragen bitten wir um Rückmeldung unter 0043 (0) 316 / 811599 oder per E-Mail: muwa@muwa.at!
For further information please contact us 0043 (0) 316 / 811599 or per E-Mail muwa@muwa.at!