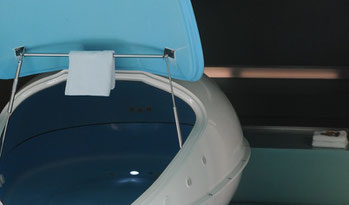 Informationen für Ihren Besuch im Samadhi-Bad!
Information for your Samadhi-Bad Floating!
Termin buchen unter 0043 (0)316 / 811599
Reservation 0043 (0)316 / 811599
Mi, Do, Sa, So /

Wed,

Thurs, Sat, Sun :

13:30 Uhr

/ p.m.

Fr /

Fri

:

17:00 Uhr

/

p.m.
Achtung: Bitte buchen Sie Ihren Termin frühzeitig, etwa 4 Wochen im Voraus!
Attention: Please book your floating about 4 weeks before!
Info: Für die reine Floatingzeit von einer knappen Stunde, ein Einführungsgespräch, eine Dusche vor und nach dem Floaten sollten Sie insgesamt 1,5 bis 2 Stunden einplanen! Handtücher und Duschgel erhalten Sie vor Ort, ein Haartrockner steht Ihnen ebenfalls zur Verfügung!
For the floating of about one hour, for an introduction, a shower before and after the floating you need about 1,5 to 2 hours. You receive towels and showergel and you find a hair dryer in the MUWA.
Preise / Prices:
Normalpreis bzw. Gutschein /

Regular ticket or voucher

: € 48,00
Ermäßigung für BewohnerInnen des Bezirks Jakomini (mit gültigem Meldezettel) sowie für Studierende bis 27 Jahren (mit gültigem Ausweis) /

Reduced ticket for people living in the district Jakomini and for students under 27 years:

€ 36,00


Jugend Check-it Card Steiermark

€ 20,00

90-min-Termin

/

Reservation for 90 minutes

€ 60,00

Blöcke:

3er-Block: € 115,00
5er-Block: € 190,00
10er-Block: € 350,00
Hinweise / Notes:
Wir bitten Sie um Barzahlung! We ask you to pay cash! (keine Bankomat- und Kreditkartenkasse /

No cash-card or credit card possible

)
Gutscheine sind unbegrenzt gültig!

Vouchers are unlimited valid!
Es können keine Gutscheine zum ermäßigten Tarif und auch keine Gutscheine für den 90-min Termin erworben werden!

ttention: You can't buy a voucher for 90 min or for reduced price!
Die Nutzung des Samad

hi-Bades erfolgt im Club-Betrieb und i

st ab 16

Jahren möglich!

It is possible to use the Samadhi-Bath as a club-member and at least at the age of 16 years!
Besucherinnen ersuchen wir im Falle einer Schwangerschaft ihre/n Ärztin/Arzt zu konsultieren und eine schriftliche ärztliche Unbedenklichkeits-bestätigung mitzubringen! In case of pregnancy we ask you to consult your doctor and to bring a "declaration of no impediment" with you!