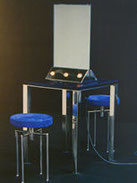 Mixed Identity Mirror MIM
ICH und DU

Das Erfahrung mit dem halbdurchlässigen Spiegel dieser Wahrnehmungs-Installation ist ein vergnügliches Spiel und zugleich eine Übung zur Metaphorik unserer Begegnung mit uns selbst und dem anderen. Das Experiment kann nur zu zweit durchgeführt werden.

Nehmen Sie zu beiden Seiten des Spiegels Platz und versuchen Sie, sich so einzurichten, dass ihrer beider Augenpaare im Spiegelbild übereinander liegen. Wenn Sie nun die Leuchten auf verschiedene Partien Ihrer Gesichter richten und die Lichtstärke jeweils am Dimmer drehend anpassen, können Sie Teile Ihres Gesichts mit Teilen des Gesichts Ihres Gegenübers wie in einer Filmüberblendung mischen.

Sie werden den anderen in sich und sich im anderen entdecken. Und Sie werden bemerken, dass dieses visuelle Experiment in Ihrem ganzen Körper Sensationen auszulösen im Stande ist. Was immer Sie auf der einen Seite des Spiegels tun, es wird für Ihr Gegenüber auf der anderen Seite des Spiegels Folgen haben.

Konzept: Prof. Werner Wolf
Realisierung: Friedrich Stiper
Mixed Identity Mirror MIM
ME and YOU

The experience with the half-silvered mirror in this perceptual installation is both an amusing game and an exercice about the imagery of meeting ourself and the other. The experiment needs two people.

Take a seat on opposite sides of the mirror and try to establish a position where your eyes meet on the mirror image. If you now direct the light of the adjustable lamps on different parts of your faces, ajusting the brightness with the dimmer, you can blend parts of your face with parts of your partner's face like in a movie.

You will discover the other person in yourself and yourself in the other one. And you will notice that this visual experiment can cause sensations in your entire body. Whatever you do on one side of the mirror, will have consequences for your partner on the other side.

Concept: Prof. Werner Wolf

Realization: Friedrich Stiper