Taktiloskop
Sehen mit dem Rücken!

Stellen Sie sich vor: Sie lehnen mit dem Rücken an einem TV-Monitor. Anstelle der dunklen Bildpunkte berühren aber kleine, durch Hubmagnete in Bewegung gesetzte Stifte Ihren Rücken. Sie werden sagen: Sie spüren ein Bild! Aber wenn Sie die Augen geschlossen halten und sich ein wenig Zeit lassen, werden Sie den Eindruck gewinnen, dass Sie das Bild mit dem Rücken sehen!

Das Taktiloskop ist ein am Institut für Elektromechanik der Grazer technischen Hochschule im Auftrag des Museums der Wahrnehmung entwickelter Prototyp. Die über die Matrix übermittelten Berührungsbilder können lediglich grobe Umrisse wiedergeben; das reicht allerdings völlig aus, um beispielsweise zu erkennen, ob eine oder mehrere Personen sich vor dem Stuhl aufhalten, in welche Richtung sie sich bewegen und ob sie sich von Ihnen entfernen oder sich nähern.
Nehmen Sie also Platz, schließen Sie die Augen und richten Sie Ihre Aufmerksamkeit auf die Art der Berührung, die Sie am Rücken wahrnehmen. Versuchen Sie zu erraten, was vor Ihnen vor sich geht und vielleicht möchten Sie auch der Frage nachgehen, was Sie als "innen" und was Sie als "außen" wahrnehmen: Das Sehen oder das Spüren. Das Szenario des Experiments gleicht im Grunde dem eines verbreiteten Kinderspiels: Wie viele Raben sitzen auf dem Kopf?

Konzept: Prof. Werner Wolf
Technische Realisierung: Werner Rauch
Design: Friedrich Stiper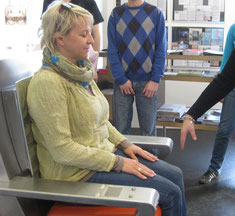 Tactiloscope
See with your back!
Imagine this: you lean your back against a TV monitor. Instead of dark pixels small pins moved by lift magnets touch your back. You will say: You feel a picture! But if you keep your eyes closed and take your time, you will have the impression that you see the image with your back!
The tactiloscope is a prototype commissioned by the Museum of Perception and developed by the Department of Electromechanics at the Universtiy of Technology of Graz. The tactile images transmitted through the matrix can only reproduce rough shapes. This is however sufficient to recognize for example whether one or several persons are in front of the chair, which direction they take and whether they come closer or go away.

Take a seat, close your eyes and focus your attention to the kind of touch you feel on your back. Try to find out what happens in front of you and ask yourself what do you perceive as "inside" or "outside": the seeing or the sensing. The scenario resembles basically to the children's game "How many ravens sit on your head"? 
Concept: Prof. Werner Wolf
Technical realization: Werner Rauch
Design: Friedrich Stiper